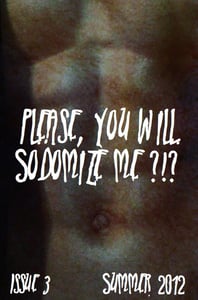 $

4.50
At long last.... Issue 3!!!!!
Even longer than the last issue with a crazy amount of color!!!
Featuring jumbled and rambling Interviews with:
*Jeremy Shaw - The man behind Circlesquare and a wealth of drug inspired art... (Guest interview by Lee Vincent)
*Joakim Almroth - A Stockholm based photographer with a wealth of pretty boys at his disposal to torture :)
*Bavo Defurne - Amazing filmmaker from Belgium whose queer themed short films are dreamy and brilliant. His new feature film, North Sea Texas is actually the first good queer themed coming of age film in quite a few years!
New Artist Spotlight: S.B. Fuller
Luke Munson on "The Baphomet"
Featuring poetry and prose by Jesse Hudson, Nick Brook, and Luke Munson
With art, photos, and drawings by Scott Treleaven, CL Martin, Daniel Dominguez, and Matt Steele
Standard Edition of 160
*We're incredibly sorry for the high international shipping rates, but this is what the USPS is now charging us! If there's ever any significant difference in the rate when we ship it, we will of course refund you*