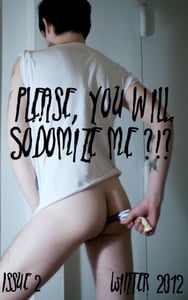 $

4.00
Issue 2 of PYWSM?!? is filled to the brim with awesome interviews, creative writing and some pretty pictures that might get you slightly aroused….
Interviews with:
Guillermo Riveros, Brooklyn based photographer and exhibitionist
CL Martin, awesome artist!
Also:
Queer Fear….. An Introduction
Poetry by Luke Munson, Matt Steele, and Thomas Moore
A Short Story by Luke Munson
Lots of awesome images!
If you live in Tallahassee, email us at pleasesodomize@gmail.com to avoid shipping charges!