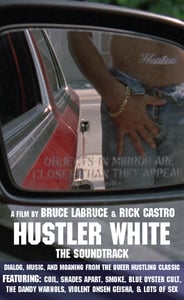 $

5.00 - On Sale
To coincide with Bruce LaBruce's retrospective at MoMA, PYWSM?!? Recordingsss proudly releases HUSTLER WHITE - THE SOUNDTRACK!!!!
Presented on the only possible format appropriate for this salacious 90s hustler flick; the hard, thick, and hot format of the cassette tape.
Produced by John Oswald and Bruce LaBruce himself, the Hustler White soundtrack is a supermix of dialog, music, and moaning.
Featuring: COIL, SHADES APART, SMOKE, BLUE OYSTER CULT, THE DANDY WARHOLS, & VIOLENT ONSEN GEISHA along with many more.
Limited First Edition of 250
Full Track Listing:
1. Tainted Love (Prelude) - Coil
2. Pop Kiss - Boredoms
3. Finger Action No. 5 - Boredoms
4. Heavy Introduction / Love Child, Happy Parade - Violent Onsen Geisha
5. Ride - The Dandy Warhols
6. Another Time - E-Coli
7. Milkcow Blues - Violent Onsen Geisha
8. Misogyny - Rusty
9. Glory Hole - Glen Meadmore
10. Don't Fear the Reaper - Blue Oyster Cult
11. Luke's Feet - Smoke
12. Don't Let Me Be Misunderstood - Violent Onsen Geisha
13. Closet Case - Pedro, Muriel, and Esther
14. Medley - Hanadensha
15. Tainted Love (Reprise) - Coil
16. Tainted Love - Shades Apart
17. Worship - Hanadensha